International Shipping & Policy
European Union (EU) countries and the United Kingdom (UK) Customers
Due to the recent change in value-added tax (VAT) in your country for all imported items, we apologize that we are NOT able to ship to you.
The VAT is complicated and creates too much overhead cost for us. Hopefully, the situation could be improved in the near future.
Placing Order Online
Thank you for your interest in purchasing internationally from English-Teapots.com! Below are the instructions on how to go about placing an international order:
Click on "Buy" button.
Click "Update" button for quantity changes.
Click "International Order" button located at the bottom of the shopping cart page.
Click "Secure Checkout" button.
International Shipping Rate
The cost of shipping is determined by package weight and the country. We suggest you place your order online without contacting us first for the shipping fee.
After you place your order and we receive it, you will be contacted via email regarding the cost of shipping. Please allow up to a few days to receive your shipping email. If your order is placed after office hours (M-F 9:00am to 6:00pm Pacific Standard Time) you will receive your shipping email within the next business day or two. When you receive your shipping email, you must reply to the email to let us know whether or not you approve of the shipping fee. You will not be charged for your order until you have approved the cost of shipping.
It is often more economic to ship via US Postal Service (USPS) than UPS. USPS International Air Mail packages can take anywhere from 10 days to 2 months for delivery. Based on our experiences, 90% of the packages arrive within 14 days. If your order requires expedited shipping, please contact us for additional information.
Find out an estimated shipping rate yourself:
Visit http://ircalc.usps.gov
Select your country.
Select "Package".
Fill in weight.
1 kg = 2.2 pounds
1 pound = 16 ounces
Make sure to add extra weight for packaging materials, especially for fragile items.
Click "Continue".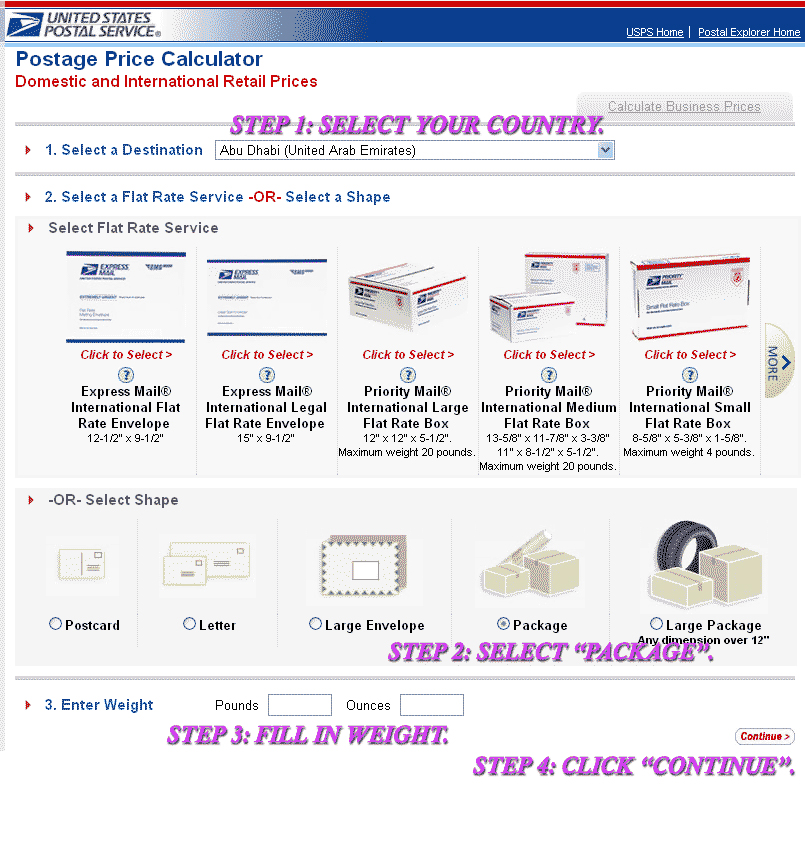 Zoom
Import Tax
Import tax may occur depending on your country's import regulation. These taxations are strictly determined by your country and the shipping couriers used and are in NO WAY affiliated with English-Teapots.com.
Return/Exchange Policy
Due to the high cost of international shipping, our return policy for items that have been damaged while in international transit may be limited. You may return any undamaged item within 30 days of the shipping date, however, you will be required to pay for the cost of shipping and handling and will only be refunded for the item itself. You must contact our customer service department before returning any item. Thank you for your cooperation.
Return/Exchange Policy
English-Teapots.com cannot be held liable for orders that go missing while in transit. Once an order leaves our warehouse, we can no longer be held accountable for it. If the tracking number provided to you shows that your order has been delivered, but you did not receive the package, you will need to handle the matter with the courier responsible for delivering it. We will not provide free re-deliveries on orders that go missing.
More questions?
For all other questions or concerns not addressed, please contact us via email.